Witajcie,
Nareszcie udało mi się skończyć nową lalkę. Jestem z niej całkiem dumna - udało mi się osiągnąć zamierzony efekt. Poznajcie Adrienne:
Hello,
I've just finished my new doll. I'm quite satisfied with the result. So... here's Adrienne: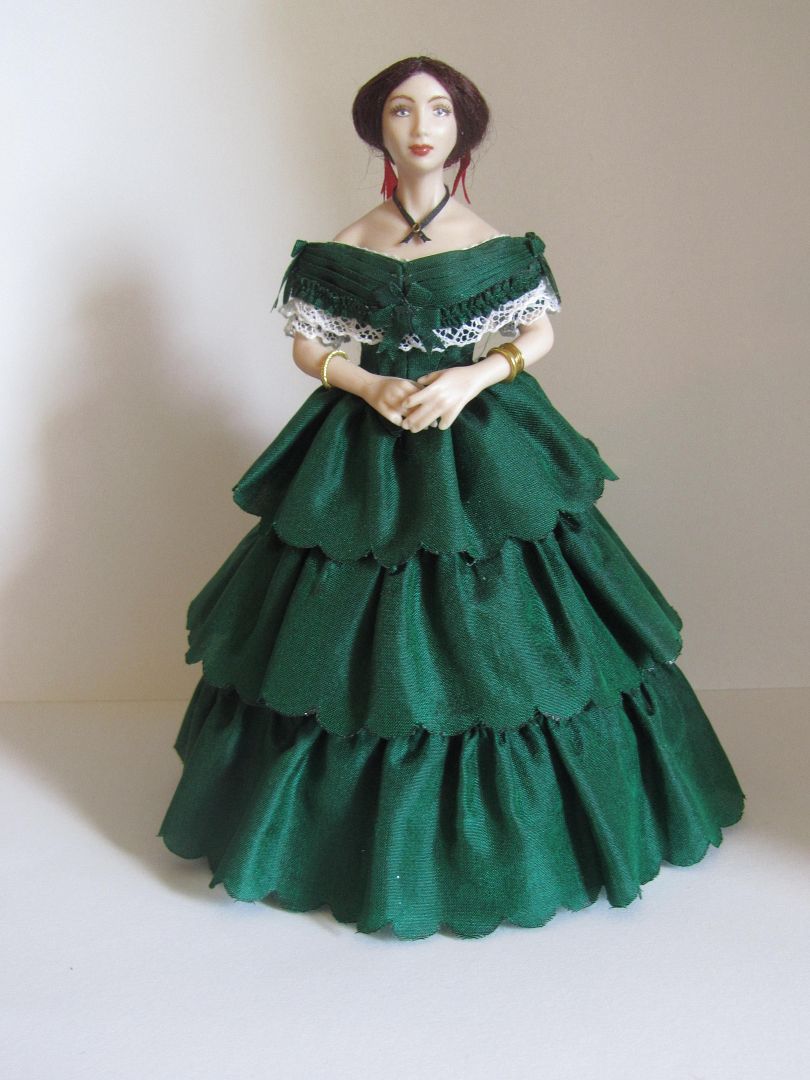 Pewnie niektórym z Was ta suknia z czymś się kojarzy. I bardzo słusznie. Jest to miniaturowa kopia jednej z sukni przedstawionych na obrazie Franza Xaviera Winterhaltera pt. "Cesarzowa Eugenia w otoczeniu dam dworu" z 1855 roku. Oto on:
Some of you might have already seen this dress. Of course! This is a miniature copy of the one of dresses shown in 'The Empress Eugenie Surrounded by her Ladies in Waiting' by Franz Xavier Winterhalter. Here's the painting:
Co ciekawe, za każdym razem, gdy patrzę na ten obraz, moją uwagę przyciąga nie cesarzowa, Adrienne, hrabina de Montebello, ubrana w piękną zieloną kreację. Spójrzcie tylko na zbliżenie, a zrozumiecie dlaczego po prostu MUSIAŁAM odtworzyć to cudeńko w skali 1:12.
What's interesting, every time I look at this painting my attention I feel that the 'main character' of this scene is not empress Eugenie, but Adrienne, comtesse de Montebello, who's wearing a stunning green gown. Just look at the zoom - do you understand why I just HAD TO make this dress in miniature?
Suknia jako całość jest zachwycająca, ale najbardziej urzekły mnie detale, takie jak berta, bransoletki, wstążki we włosach i oczywiście przecudny, choć prosty, naszyjnik. Wszystko to starałam się odtworzyć jak najwierniej, z tego też powodu praca nad samą suknią zajęła mi ok. 3 tygodnie. Ale myślę, że było warto, bo muszę Wam powiedzieć, że jestem dość zadowolona z efektu końcowego. A jak Wam się podoba? :)
Gown is really breathtaking, but for me the most charming were details: bertha, bracelets, all those ribbons, and of course simple but truly lovely necklace. I tried to copy everything very carefully, that is why working on dress took me about 3 weeks. But I don't regret it, because I'm quite satisfied with the results. And what do you think about it? :)

Nie miałam niestety pasującej jedwabnej tasiemki, więc musiałam wszystkie te wstążeczki wycinać z zielonej tafty, z której zrobiona jest całą suknia. Ręcznie wycinałam takze brzeg kazdej falbany. Ojj, to było bardzo czasochłonne... ale nawet przyjemne:)
I didn't have any matching silk ribbons, so I had to cut bias stripes of self fabric (silk tissue taffeta). I always cut the scalloped edges of flounces. It was very time-consuming... but also quite pleasant :)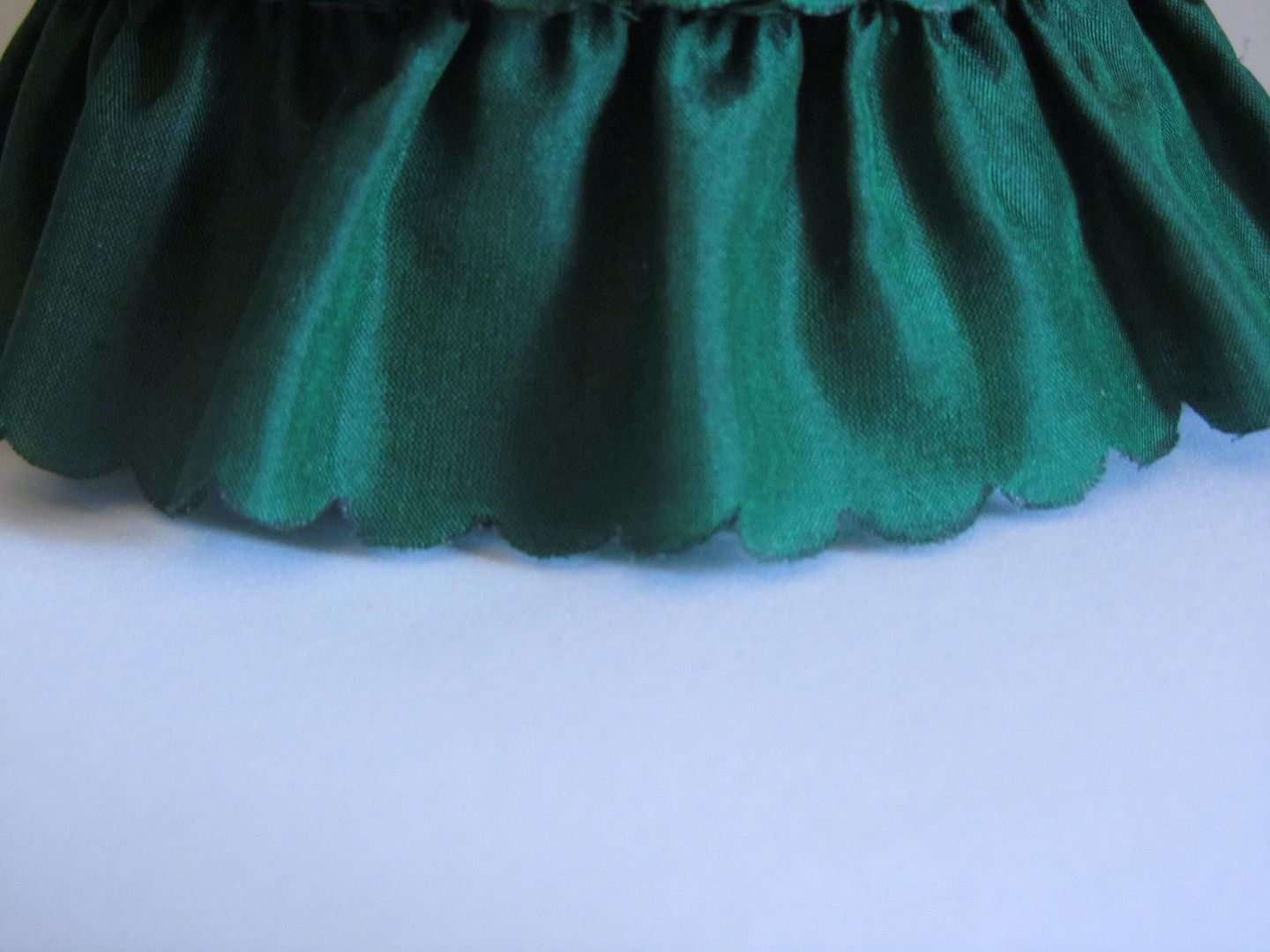 Do wykonania lalki użyłam zestawu porcelanowego "Camille" wykonanego przez Ginę Bellous z formy Stacy Hofman. Miniaturową damę oczywiscie pomalowałam i uczesałam samodzielnie :)
To chyba wszystko... Mam nadzieję, że Wam się spodoba i... tradycyjnie, czekam na kometarze:)
Pozdrawiam serdecznie,
Zofianna
To make this doll I used blank doll kit "Camille" by Gina Bellous (mold by Stacy Hofman). Miniature lady was painted and wigged by me. Well, that's all... I hope you'll like it and I'm waiting for your comments:)
Best regards,
Zofianna